Daily Mudras
For Healthy Life
BODY PARTS | BENEFITS | PRACTICE | ALARM
Daily Mudras (Yoga) app assist you to perform Yoga Mudras hand gesture, exercise to improve your physical, mental and spritual healthy life.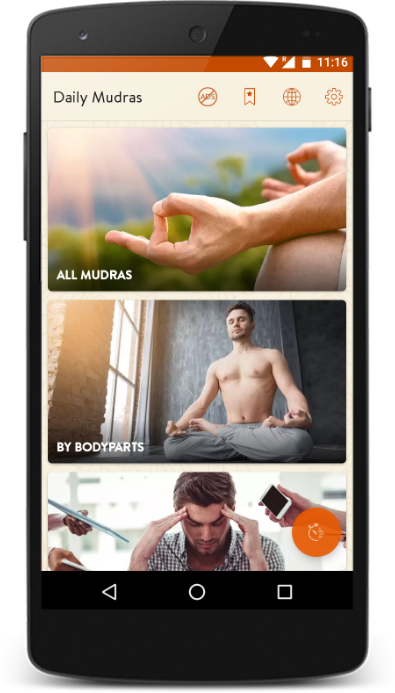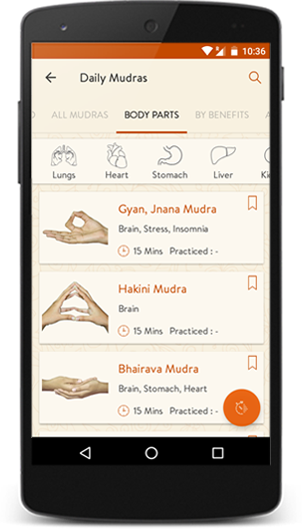 Features
You can't improve what you don't measure - What gets measured, gets managed! Daily Mudras will help you discover the best version of yourself by inspiring you to meditate regularly

Dashboard
Smart Dashboard of this application and here each section is designed with your requirements and flexibility.

Personalized Mudras
This application suggest Mudras from the age factor of 5 yerars to 65+ years that will be helpful to all.

Languages
This application supports the languages like English, Hindi, Spanish, Portuguese and Tamil accordingly to the specified

All Mudras
You can access 50 most important Mudras which you can do step by step according to the procedures given.

From Head to Toe
You can get the exact Mudras for a particular organ. For example: Brain, Eyes, Stomach, Obesity and Relaxzation.

Timer
This application includes a separate timer and meditation music section to do it successfully without any hinderance.

Alarm
Specially an alarm section is there in this application which reminds you to do Mudra so that it will be lingering in the mind.

Statistics
The statistics are the most innovative that are specially designed for mobile devices to help track the details of a person.
ABOUT MUDRAS

Mudra is a Sanskrit word which means posture or pose. In the word Mudra 'mud' means joy and 'ra' means produce. It produces joy and cheerfulness. Mudras originated from Hinduism and Buddhism. 200 Mudras are used in Bharatanatyam and 250 Mudras are in Mohiniattam, 108 Mudras used in Tantric rituals. In other term Mudras are silent language of self expression and consisting of hand gestures and finger postures.

Mudras involves the entire body and looks as a closed electrical circuits which can pass energy throughout body. The physical body is made up of five elements. The Thumb, Index, Middle, Ring and Little finger represents Fire, Air, Sky, Earth and Water respectively. Imbalance of these five elements interrupts the immunity system and causes diseases. When a finger representing an element is brought into contact with the thumb element the disturbance is brought into balance, therefore the disease caused by the imbalance is cured.

Usually from 5 to 45 minutes is required to practice everyday by using appropriate Mudra with proper pressure and touch including sitting position and breathing.

However the effectiveness of the Mudras not only depend on the practices but it also depends up on the eating habit, diet and the lifestyle of a person.
NEED FURTHER HELP?
If you've a question about Daily Mudras in general or your
mindfulness practice in particular

kindly contact us at